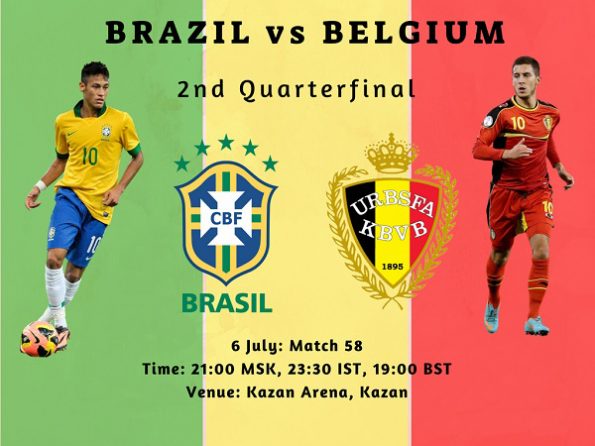 The teams are just two steps away from the FIFA World Cup 2018 Finals. The contest is filtered down to 8 teams who will play against each other as scheduled on 6th and 7th of July 2018. Just weeks ago there were 32 teams who played at Group stage and then 16 teams into the Knock out stage and now here we are.
Uruguay vs France

Brazil vs Belgium

Sweden vs England

Russia vs Croatia
It is difficult to pick a winner as all the teams have played in an excellent manner. Uruguay, Belgium and Croatia are yet to lose a match in this World Cup as they have won all the matches in Group stage and the knock out match in the round of 16 against Portugal, Japan and Denmark respectively. Russia, Sweden and England have lost one each at group stages which does show some negatives and may expose them to the teams they are up against in the Quarterfinals. Brazil and France have not lost any but one match each was a draw at full time.
Only winning maximum has brought these teams forward and just like the Round of 16 it is this match which matters the most, as they say "play it like as if it is your last".
Brazil vs Belgium / Neymar vs Lukaku:
Kick off – Brazil in charge of the game and taking it forward as they wish.

Belgium is managing the Hurricane Brazil that has hit them in the Kazan Arena, absolutely nothing would have prepared them from this.

Belgium may gather some strength and take a shy at the crossbar but the Brazilian defense is stronger than ever also the energies support Brazil.

Brazil playing like a deserving champion leaving less gaps for Belgium to get through but they may get one in with great effort only in vain as it would not even be enough for an equalizer.
Brazil is shown in support as per the timings and the planetary placement even beyond the 90 minutes to extra time, so the Belgians can only pray to the almighty and make Brazilians leave some loose ends and turn the game in favor of Belgium as there is also something called as FREE WILL!!!!