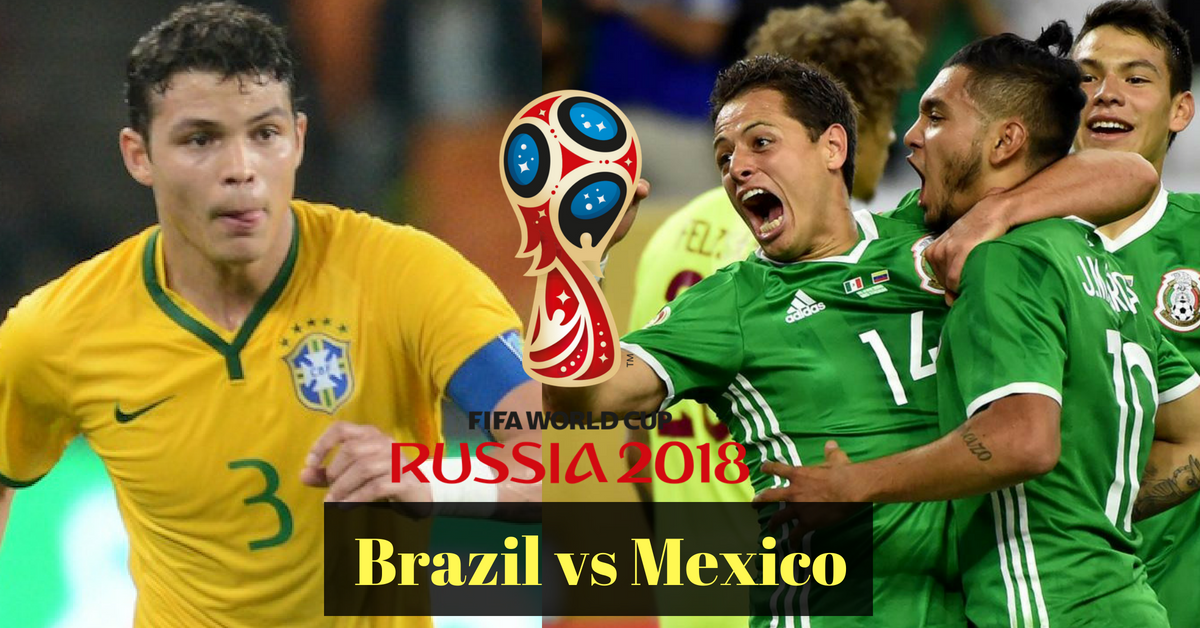 Brazil is the only team left of the countries that most people in the football following world are routing to win the 2018 FIFA World Cup and Mexico is in the way of their progress to the Quarterfinals.
Brazil vs Mexico showdown at the Samara Arena, Mexico has won 2 out of 3 games in the group stages and till now have played all the games in Great Spirit, they are known for winning over big teams and they are up against one such legendary team today Brazil. They may have exposed their weakness in the Sweden game which for sure Tite would have made a note.
Mexico and Brazil have played in strategic manner and to their full potential at group stages. Brazil won 2 and one was a draw against Switzerland whereas Mexico had lost against Sweden by conceding 3 goals.
Thiago Silva feels strong on how the team is working together and prove true to the legends like Ronaldo, Rivaldo, Roberto carlos, Pele to name a few that served the same team and excelled at it. In the skill section Brazil is packed with players like Douglas Costa, Neymar, Jesus, Coutinho Thiago Silva, Filipe Luis and that's almost the whole team.
Mexico is strong in defense and they attack well from the right side based on the games they have played. Ochoa the Giant in skill, Hirving Lozano – forward; Salcedo, Ayala and Gallardo holding the front of the fort, Herrera, Vela and Marquez good at counter attack and getting that cross to the striker in scoring positions.
Four games are over and this is the 5th, all of them have been either thrilling or testing a team's will to win even in the last seconds of despair.
Brazil will have to show why they are one of the top teams in the world today, winning this game will take them forward also they are not just winning this but they will be defeating one of the best teams in this World cup.
Predictions for the Match:
Mexico is presenting a badger spirit who seem ready for a challenge in the very first stage of the knock out.
Brazil is also looking focused and are not letting complacency set in as they know that Mexico has won over Germany – the previous World cup winners.
The stars and timings rule in Brazils favor from the beginning and may see some fight from Mexico but they may be in lead by Half time.
In the second half Brazil will have to seal the victory by taking the lead far from reach of the Mexicans.
70% of the second half is in favor of Brazil but if they leave it too late to score Mexico could make a comeback and if they draw the match Brazil may very well see the win going away from them and ending their dreams of being the world cup champions – 2018.