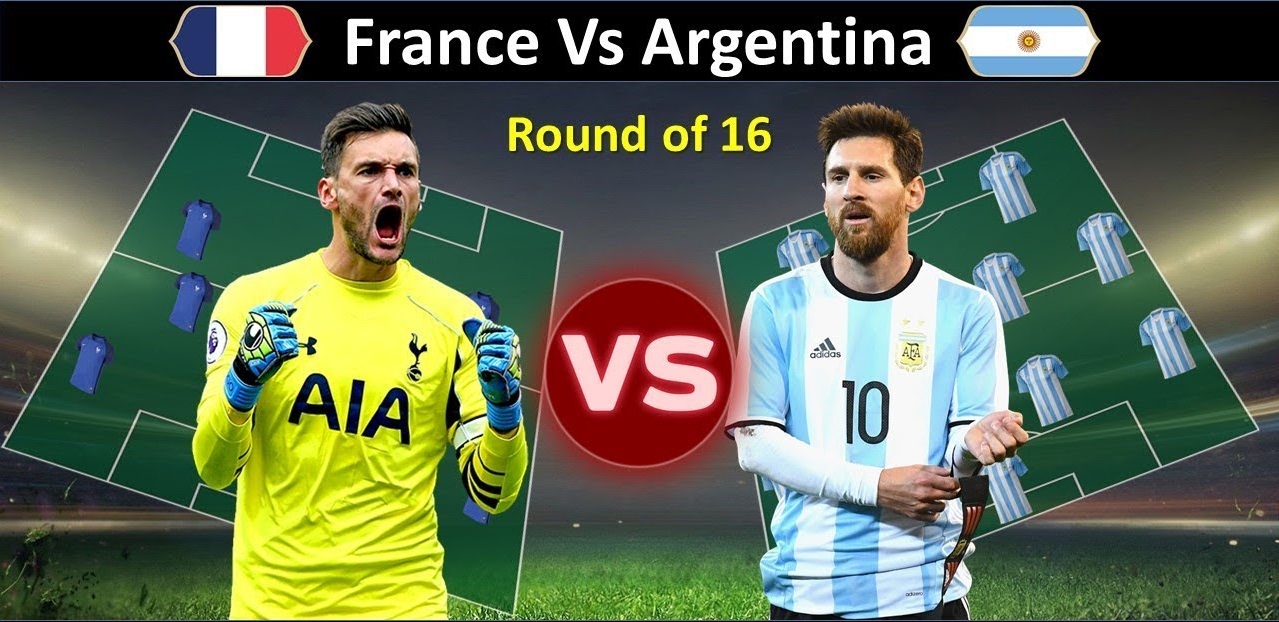 Phase one over and now to next, 32 teams brought down to 16 and will be knocked out in a whim in the playoffs. France vs Argentina is the first of the eight matches to be played over the next 4 days. Argentina made it through the group stages with great difficulty by qualifying in the very last match against Nigeria, they seemed have found a winning combination and would like to keep the winning momentum going.
France on the other hand sat through a joy ride into the knockouts despite drawing a game with Denmark 0 – 0 and winning the 1st two games against Australia and Peru. Rolled, slipped and jumped through a ring of fire, it does not matter as far as you have made it. The teams are in the knock out stage – The FIFA World Cup 2018 – Russia Playoffs or the round of 16. This is where everything is back to Square One and is like a Final, the team wins advances to the quarterfinals, they lose – a long way back home; a simple equation.
Paul Pogba, Olivier Giroud, Matuidi, Kylian Mbappe, Lucas Hernandez with Hugo Lloris will go up against Franco Armani, Marcos Rojo, Otamendi, Enzo Perez, Pavon and Lionel Messi.
The most effective formation for Argentina has been 4 – 4 – 2 and France have won convincingly with a 4 – 3 – 3 against Australia, a 4 – 2 – 3 – 1 strategy seems a bit scattered but this may help them to create gaps to push the ball forward. Deschamps will have to work on the unpredictable nature of its opponent to gain an upper hand.
Astro Prediction for the first knockout battle:
It will be a true show of how serious business is at the Knock Out stage, both the teams will use their best skills to attack and defend. This to and fro and no goals conceded will be the story till half time. Argentina may manage to score one but the chances are very minimal.
In the second half the start is at a new high from Argentina's end, it would seem as though they have found some loop holes in Frances' game and with the new built strategy at Half time we could see them in scoring positions.
Alas a goal after the 50th minute from Argentina and one more in the time frame of 64th minute to 79th minute is seen possible.
French fans would be hoping that France could somehow draw the game before 90th minute and have a fighting chance in the extra time. They may have their short lived moment of glory in the ending minutes but would manage only one goal courtesy of a slight change in timings after the 80th minute.
It looks like a 1 – 2 game today between France and Argentina, at the Kazan Arena. Argentina is the favorite not only for the fans but even the cosmos has destined them to win today's match.