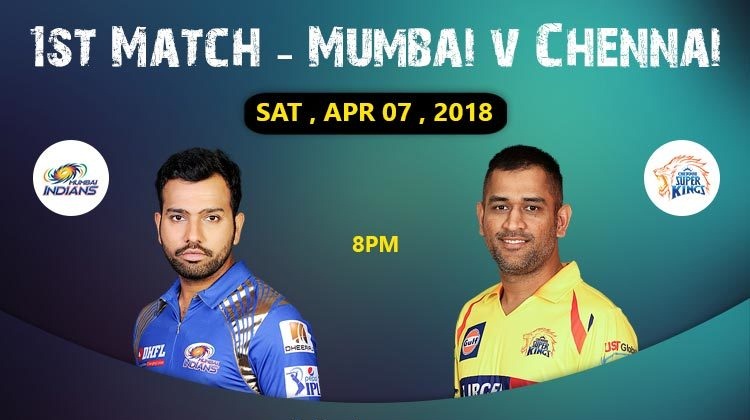 It's summer!!! Hot, hotter and hottest than ever it has been because it is Indian Premier league Time. It is starting right where India won its second World Cup in the year 2011, yes it is the Wankhede stadium in Mumbai between the defending champions Mumbai Indians led by Rohit Sharma and the ever so great Chennai super Kings who have tasted the victory twice and have always proven their mettle, Who are yet again led by the undefeated wicket keeper Captain MS Dhoni.
The team owners have done a brilliant job at the IPL auctions by picking up some of the best players from around the world, both the teams look formidable.  Mumbai Indians have match winning players like Jasprit Bumrah, Pollard, Mustafizur Raheem, McClenagan, the Pandya brothers, And the hitman himself Rohit Sharma; you may ask who could possibly beat them but don't decide so soon, the Chennai super Kings have got some excellent and brilliant cricketers. The list is really long but to name a few; Dwayne Bravo, Suresh Raina, Harbajan Singh, Faf du plessis, Ravindra Jadeja and the inventor of the helicopter shot himself MS Dhoni.
The Mumbai Indians who have won the IPL on three occasions and are the defending champions would certainly look to start really strong by winning the very first match of the season, but they might find it hard to tame the lion as they were put to sleep in the den for two years and have been waiting for this moment to pounce on and relish the feast, Mumbai Indians just might be served as dinner.
Astrological Prediction:
This match is likely to be won by Mumbai Indians. Right from the word go, they will be in control and dominate the 1st innings. The first 10 overs of the second innings will be balanced with Mumbai having a slightly upper hand. The last 10 overs could turn out to be in CSK's favor; however the heroics of few players in the end may go in vain, with Mumbai Indians emerging as the winner.