The actor revealed that he had been diagnosed with a rare carcinoma disease called neuroendocrine tumor which occurs to one in a million cases on March 5th in his social media post.
"Life is under no obligation to give what we expect", said actor Irfan Khan quoting the words of Margaret Mitchell`s film "Gone with the Wind".  Renowned Bollywood actor Irfan Khan, 51 years, spoke these words to the media when questioned about his illness. On March 16th 2018, after 10 days of treatment and conclusive diagnosis, he disclosed that this is a rare form of cancer involving a condition of abnormal growth of neuroendo cells which are present in the bodies. Abnormal growth of cells that result in the formation of tumour in parts like pancreas, thyroid, intestine, lungs and other parts of the body as well.
He admitted that being diagnosed of the disease is not easy for him and his family. Irfan is supposedly going abroad for his treatment and the dates are not disclosed. His wife Sutapa Sikdar is by his side acting as a source of strength and support along with magnitude of support from family, friends and innumerable fans.
On the professional front, his film Blackmail produced by Bhushan Kumar is scheduled to release on April 6th 2018. The veteran actor made his debut in Salaam Bombay an Academy Award Nominee in 1988. He has then appeared in more than 100 films and some of his famous films are Slumdog Millionaire, Jurassic Park, and Life of Pi.
He won India's National Film Award for his leading role in Paan Singh Tomar in 2013, a biopic about a top athlete who becomes a bandit. Other famous Bollywood film is Piku which was co-starred with Deepika Padukone.
An astrological analysis
As the birth details of Irrfan khan are not available, his date of birth has been considered for interpretation. Irrfan khan was born on 7th Jan 1967. The planet Sun represents the soul and is placed in the sign Sagittarius and this has been considered as the ascendant of the birth chart for analysis.
As per Vedic astrology, the planet Rahu is mainly responsible for any sort of abnormal growth in the body like tumor. This is quite evident in Irrfan khan's horoscope as the planet Rahu is closely influencing the planet Sun (with a difference of just 1 degree). This indicates high possibilities of getting affected by any such abnormalities related to his lungs, intestine or gastrointestinal tract.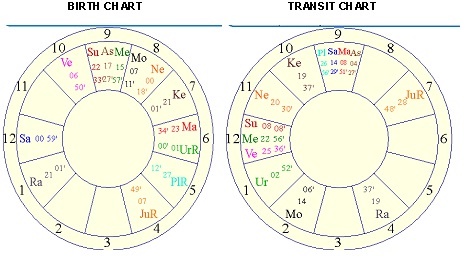 The concerning part is whether he will be able to conquer this illness and if yes then when. Astrologically, the beneficial aspect of exalted Jupiter on Moon, Venus and Saturn is strong enough to mitigate any negative afflictions in the birth chart. He is well on the way to win this battle and come back stronger.  
The transit of Saturn would play a major role in this regard. Right now Saturn is in the sign Sagittarius and closely influencing the planet Mercury which has triggered his medical problems. In addition to this the planet Rahu is transiting over the natal Jupiter which is not looking so good for the present moment.
Saturn will be in retrograde motion from April 2018 to September 2018 and this is the time period which will be challenging and require lot of patience from the veteran actor. The best of the best treatment may not give the desired outcome and in this stage he might be given an alternate course of treatment.
The period between October 2018 and March 2019 would start bringing a steady positive recuperation from his health problems. Post March 2019 is the point at which he is probably going to fulfill his fans expectation by making a solid rebound. Astrograce team prays and wishes Irrfan khan speedy recovery and waiting for him to come back and give us some more magical films.