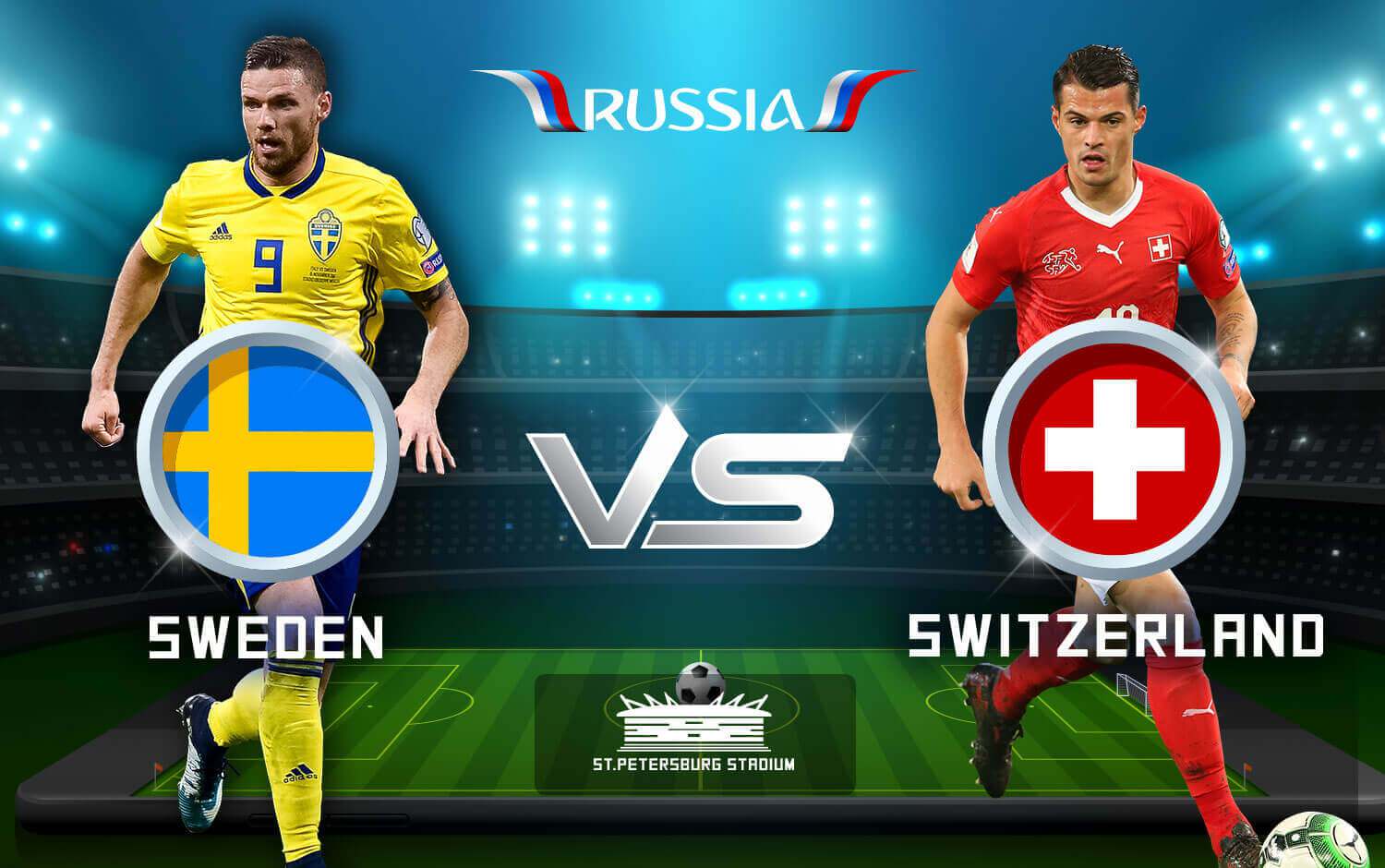 Spots are filling up fast for the Quarter finals starting on 06th June 2018, matches are scheduled between the qualified teams from the knock out stages:
6/7/18 – Uruguay vs France & Brazil vs Belgium.
7/7/18 – Russia vs Croatia & QF 7 vs QF 8 will be decided in today's games.
Four teams will fight for a spot in Quarter final in the last two games of the round of 16, two more teams will be sent back and two will advance.
Match 1 – Sweden vs Switzerland @ Arena St. Petersburg – 17:00 Local time
Match 2 – Colombia vs England @ Spartak Stadium – 21:00 Local time.
England is possibly through to Quarterfinals as Colombia may not be able to match the skill and experience that England have on the field. Not much to analyze for a prediction here. Now the common feeling of a must watch in today's games is Sweden vs Switzerland as both have presented immaculate skill and valor.
Sweden was put in group F against Germany, Mexico and South Korea. These three teams have always presented substantial threat on field and have achieved many accolades. Sweden had to win their last match against Mexico as they had lost the previous one against Germany this kept them alive in the group however Germany lost the match against Korea and Sweden were through.
Switzerland has won only one game out of the three it played at the group stages. The game against Brazil stood out even though it was a Draw just because they did not let the possible 2018 world champions win. Both the teams have followed a single minded approach so far, they may not want to change what is working best for them, this does not run long at this level, Petkovic and Andersson will have to work around their strategies as this lack of flexibility may cost them.
Thelin, Viktor Claesson, Andreas Granqvist, Olsen Albin Ekdal and Marcus Berg is the winning combination which has worked for Sweden.
Shaqiri pretty much carries the whole team's responsibility to score goals and Behrami, Steven Zuber, Rodriguez, Sommer, Schar are there to support and also put their foot forward when Shaqiri falls back.
Prediction for this match:
Goal keepers, defenders, midfield, forward strikers are in place standing opposite each other, whistle blows and kick off – Switzerland wants to keep the ball in their half, a bit defensive. Sweden has a strong strategy which is in place right from the beginning, they will dominate the first half and are in scoring positions often.
The timings and planetary position suggest prolonged support for Sweden which they will capitalize comfortably.
In the second half a frustrated Switzerland team and Petkovic unable to pin the ways of the Swedish playbook and are seen struggling to contain the attack.
Sweden will have to take a substantial lead as the Swiss may find a dent or two in their armor as the game is approaching the 90th minute where the timings shift its favor to Switzerland and they may score enough to extend the game into the Extra time.
Nobody wants to play the Extra time when you have score enough to win a game, here Granqvist and the boys should make sure they maintain calm, keep the possession and the defense strong as the victory is only minutes away.