---
PISCES 2017 PREDICTIONS
---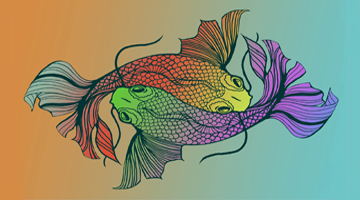 You, dear Pisces are the biggest dreamers among all others signs.  Well, we definitely can promise that some of your dreams will come true in 2017! But for other ones you will have to try harder and maybe wait for a longer time. If there is a sign in horoscope that doesn't need reminder to be more intuitive and self –introspect, it is you! But 2017 is the chance for you to become more active and realistically inclined! You will become more practical and even materialistically oriented which is actually very good thing for you.
PISCES 2017 LOVE HOROSCOPE
You will fall in love for the fatal person in the middle of the year.  It may be a person from abroad. You will be completely immersed with that mysterious, interesting personality. Be careful not to enter pointless obsession as a spectator from the corner! Get into the action! Chances that this year offer will be replaced by the other chances of the future, but time can't go backwards. Do something before perfect chance vanishes. Some of you that are in longer relationships will reconsider staying in it.  You may conclude that your partner will not follow you on the path of personal growth.  One person that is very close to you will do something behind your backs and that can have devastating impact on your relationship. This will especially counts if that person sign is Capricorn or Aquarius. 
PISCES 2017 FAMILY AND FRIENDS
In the following year, you may realize that you are over-worried when it comes to your closest ones.  Your anxiety will be at the peak in the Summer. Some of your family member or close friend will let you know this and give you advice to take more relaxed approach to life in general. It is important not to forget your own needs because of other people, even if that people are your own kids. It is important for you to realize that if you are good towards yourself, others will appreciate you more and they will count on you, but in a more serious and committed way.  You may meet a person who will drain all of energy from you with her problems. It will be good for you to avoid this in order to save your energy. Nevertheless, give advices to this person, but without letting him or her suck all the positivity out of you.
PISCES 2017 CAREER
All those who are students in middle twenties will seriously start to question themselves if their choice was really good.  But, if you are already on the halfway of studies or at the end, try to save something. Instead of completely leaving that profession, try to think of solution of using it in purposes that will be more inspiring for you.  This year is not good for making radical solutions in career. Better try to be conformist instead. Those unlucky with their job, who are constantly seeking ways to improve, will finally get a reward for dedication,. Summer will be perfect timing for all those students who want to apply for scholarship abroad or get the practice away from home.
PISCES 2017 FINANCES
Your job situation will be stable with smaller ups and downs, so your finances aren't supposed to suffer in 2017.  Just be careful not to spend too much in the beginning of the year.  During the summer your partner may surprise you with sudden, unnecessary expenses. Some conflicts may arise.  You will be in situation of making some tough decision regarding family expenses.  In the year 2017 you will finally afford something you had longed for; that exotic travel with your spouse or beach house.
PISCES 2017 HEALTH
Avoid overeating in the beginning of the year, especially greasy and junk food.  You may have problems with pressure and experience some dizziness during this period. You will be in the full strength during summer. You will feel like wild energetic animal, ready to do everything it wants.  Be careful when it comes to joints and limbs, in this period. Don't do anything too rapidly and avoid places where air is moist.